If you are serious about starting a yoga workout home practice that you will stick with for the rest of your life then I recommend you begin by pushing the limits of your body and mind so you have a strong foundation to further your practice on. As a complete beginner to yoga, or maybe a seasoned veteran that needs to refocus, committing to your practice everyday for a short period of time will allow your practice to become a part of your daily life and promote lasting change within your body. This Ultimate Yogi review is intended for those serious about making real change in their bodies and are ready to make a lasting commitment.
Where To Start Your Yoga Workout Home Practice
---
For only consistently practicing yoga for just over a year I have had the opportunity to experience a wide range of different styles of yoga. Whether it was the therapy of DDP Yoga, the flow of vinyasa yoga, the calmness of hatha yoga, the intensity of CorePower Yoga, or a countless number of other classes and routines I watched online or through DVD programs, one program that I found that incorporates many different styles of yoga is The Ultimate Yogi. Click here to check out more of The Ultimate Yogi on Amazon.
What Is The Ultimate Yogi?
The Ultimate Yogi was created by Travis Eliot, who, through his years traveling the world experiencing different yoga styles and traditions, has taken all aspects of fitness and athletics and combined them into a balanced yoga practice. Throughout the program you will increase your balance, strength, flexibility and cardiovascular health without ever leaving the comfort of your home.
I was amazed at the production quality that these DVDs offered. The different sets that are introduced within the workouts go perfectly along with the calm, yet intense, aspect that yoga provides. You might be working out at home or anywhere else and you would never believe it with the way the routines really make it feel like you are in an actual yoga class.
What Can You Expect In The Program?
The Ultimate Yogi is a series of 12 different routines that are separated into three sections all around an hour each. You will be using all aspects of yoga to shape your body and mind into something completely new and amazing after you stick with the entire 108 days of consistent yoga. The 12 routines that you will see during the program are:
Cross Training – Takes all forms of athletics and combines them into a workout that uses the focus and intensity of yoga.
Cardio – Increases your heart-rate through constant flow through a variety of different yoga postures.
Strength – Builds muscle through maintaining yoga poses that focus on strength.
Balance – Utilizes yoga poses that test your balance in parts of your body you never knew could balance before.
Yin Yoga – Digs deep into the connective tissue of your muscles by holding poses for longer periods of time.
Detox – Includes postures that wring out your spine and internal organs by twisting your body in every way imaginable.
Vitality – Flows through a variety of postures that are made to increase your overall energy levels.
Mountain/Pranayama – A meditation sequence that is a slow breathing progression through different arm variations.
Flexibility – Uses long, slow, deep stretches while sitting on the ground to calm your body.
Gentle – Focuses on creating space in your body through holding different variations of each posture.
Hardcore – Ab routine to help with all other aspects of the Ultimate Yogi routines.
The 108 – The culmination of the entire series that tests your body through salutations.

Continuing Your Practice
---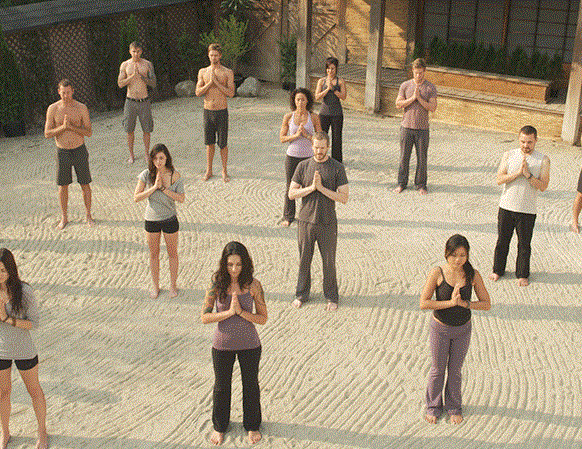 After the 108 days you might find yourself wanting more which is exactly why starting a yoga practice is crucial for your long-term health. Everything that you learn in the Ultimate Yogi program can and will be used as your practice advances and you venture into other forms of yoga.
For many people, 108 days of yoga might seem like too much to start with if you are just a beginner. The great thing about the Ultimate Yogi program is you can tailor the program to your specific needs. As long as you stay within the workouts that are listed in each of the 36 day sections, you can switch the DVDs around so you are using the routine that works best for you that particular day.
Go At The Pace That Will Allow You To Succeed
I always recommend going at the pace that works for you. If you know that you have never been able to stick with something for 108 days in a row, then start slow. Just make sure that you always come back to your mat and I promise that the results that you are looking for will come.
During the routines all of the postures are explained in great detail and have an entire class worth of people that are demonstrating different variations of the poses if you get lost. If you have never practiced yoga before then some of the routines might be very demanding and seem too hard but as long as you do your best you will get stronger overtime.
You're not going to get the body that you want if you aren't able to stick with it overtime so always go at your own pace, just don't stop. Yoga is not a quick fix to your problems but can be the solution that you've been looking for if you allow your body the time it needs to heal and get stronger.
Is It Right For You?
If you're still not sure whether The Ultimate Yogi is the best decision you can make to kick-start your yoga practice and lead you to a life free from pain, here are some pros and cons that might help:
Pros
Total-body – Gets you stronger, leaner, more flexible, and clears your mind all in one program.
Low-impact – Helps heal your bad joints and loosen tight muscles.
High-intensity – Effectively doing cardio without moving further than your mat.
Ego-less – Workout at your own pace.
Beginner friendly – No prior yoga knowledge is needed.
Portable – Workout from anywhere.
Cons
Intense Workout  – Some of the routines are intense and will push your limits.
Costs money – Joining a studio or following a routine can cost money when you first start.
108 Days – Practicing everyday is great for the body but missing a workout can lead to a downward spiral.
Start Something Amazing
---
Although the Ultimate Yogi series might seem like a huge undertaking being 108 days of consistent yoga practice, remembering that you can go at your own pace and listen to your body will allow you much more freedom to use the workouts in a way that is best for you.
The Ultimate Yogi instructor has created something that I think is perfect for those that are looking to get in touch with themselves and their yoga practice. No matter if you are just starting and have aches and pains all over your body or if you have been practicing for years, this series of workouts allows you to focus on the parts of your body that you aren't happy with and sculpt them to your liking.
Seriously, Get Serious!
As I said at the beginning, if you are serious about getting your health back on track and really making a positive change in your life then you need to dedicate yourself to something that is going to guide you through that change day-by-day until you are strong enough to do it on your own.
I believe The Ultimate Yogi is a great way to start healing your body if you are ready to dedicate yourself to 108 days of practice everyday. It doesn't matter how much you struggle it only matters how long you are willing to struggle for and if you are able to stick with a yoga practice then you will find the relief you are looking for.
If you're looking too take it slow and ease your way into a yoga practice, check out my review of Yoga Download and see how easy it can be to start a regular yoga practice.

Stick With It!
-Nate