Thinking about taking your yoga practice to the next level and becoming a yoga teacher but just don't have enough time to take classes at your local studio? Online yoga teacher certification programs like the one from YogaDownload allow you to learn at your own pace while completing a comprehensive yoga teacher training course that will train you to become a certified yoga teacher – all from the comfort of your own home! There's never been a better time than now to start your yoga teacher training online.
YogaDownload Online Yoga Teacher Certification Programs – Worth Your Time?
---
YogaDownload's yoga teacher certification training is taught by Yoga Alliance trained instructor Alanna Kaivalya who is listed as one of YogaJournal.com's top 20 teachers under 40. The course includes a 200 hour training certification in The Kaivalya Yoga Method.
In this 200 hour certification course you will be learning everything that Alanna previously taught in her 200 hour Yoga Alliance live training course and includes additional training far beyond the scope available with live teacher training. When completed you will be a certified yoga instructor in The Kaivalya Yoga Method.
Bonus material that you receive from the YogaDownload teacher training include:
Personalized training, guidance, and feedback from educators that have trained 500+ hours in the method taught by YogaDownload
High standard for testing which include uploading videos of the teaching technique
Accessible anytime, anywhere, and as many times as you need
Vast archive of information covering all aspects of yoga including 35+ hours of training in the anatomy of yoga
The YogaDownload teacher training has not yet been certified by the Yoga Alliance due to the amount of "live" training that is possible when learning online but have created an entire website dedicated to showcasing the teachers that complete the course and the rigorous standards that they were tested on. Once you complete the 200 hour certification training you will be a certified yoga instructor by YogaDownload in the Kaivalya Yoga Method.
What is the Kaivalya Yoga Method?
---
The Kaivalya Yoga Method  is a combination of over a decade worth of experience from professional yoga instructor Alanna Kaivalya that focuses on self confidence, self empowerment, and inward reflection of each student. The specifically designed yoga sequences that are presented within the training help each student develop a strong foundation to build their own practice on.
Everything that you would need in order for yoga to become part of who you are and not something that you are just trying to be. This online yoga teacher training is for everyone and all the tools and training is available for you to be able to reach your goal as a student of yoga as well as a teacher.
There are 3 foundations that the Kaivalya Yoga Method is based on that will be consistent throughout the course.
Foundations of the Kaivalya Yoga Method
(1) Specifically Designed Flow – A form on Ashtanga Vinyasa Yoga, this method will teach you the principles of vinyasa yoga and help you to create yoga sequences that will not only test the body but also the mind.
(2) Connection to the Breath – Through the use of uplifting music and sanskrit mantras you will be able to start feeling the rhythm of your practice as your connection with your breath and your movements become aligned.
(3) Philosophical Connection – Inspires you to become a better person for today's world and uses techniques and meditations that will reach to every corner of yourself in order to become the best teacher, and person, possible.
What's in the Course Content?
---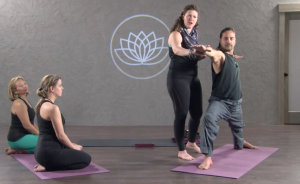 The online yoga teacher certification training at YogaDownload consists of 7 different courses that are designed to teach you everything from the history and philosophy of yoga to the specific sequence and teaching techniques that you can use to grow your teaching abilities.
Course 1 – Anatomy and Alignment – In the first course you will learn about all of the muscles, bones, joints, and connective tissue that you utilize during your yoga practice. This course uses a special mobile app that allows you to get an x-ray view of the internal structure of the body. 

Course 2 – Vinyasa, Sequencing, & the Subtle Body – The second course focuses on how to stay safe and avoid injuries during your yoga classes. You will learn the power of the parts of your body that you normally aren't aware of and how they affect the energy that you present during your practice.
Course 3 – The Art of Adjustments – Once you start to grasp all of the sequences that you can practice you will start to learn how to adjust your student's postures so they get the most out of their practice. This is where you learn how to recognize when you can help a student go deeper into a pose or when to help someone who is just beginning their practice and needs help with a specific condition, such as chronic low back pain.
Course 4 – Teaching Techniques, Building a Business, & Being a Professional – In this course you will be learning how to take your teaching to the next level and learn the tips and techniques that will help you become a better professional in the craft. You will learn how to pace the class and see cues in order to adjust to the different styles and levels of the students so anyone can feel the benefits of yoga.
Course 5 – Philosophy, History, & Themes – Towards the last few courses you are going to be learning about the history of yoga and how it has lasted thousands of years. You will learn how to take this knowledge and apply it to a modern setting to help people build themselves up by creating themes that will encourage people to be the best they can be with yoga.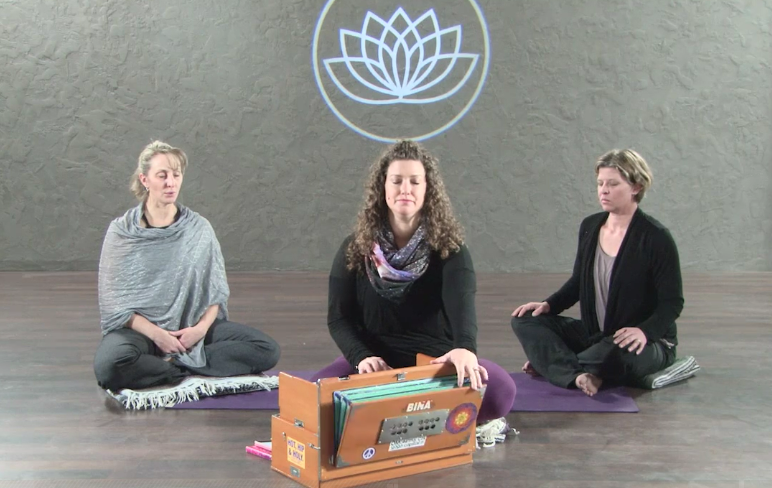 Course 6 – Meditation, Myths, & Mantras – This course will help guide you through the practice of meditation and how to use it to better your practice and those of the people you teach. You will also learn how to apply the mantras that are presented in the meditation practice to your classes to get a better sense and meaning of yoga.
Course 7 – Final Teaching Culmination – After you complete the first 6 courses you will gain access to the final course which will test your knowledge of the previous courses. You will also be sending in a full 60 minute course that you have created for your final certification.
What is the Price of the Program?
---
The YogaDownload online teacher certification training has two membership levels:
Preview – FREE (Join for $0) – Get a free preview of all 7 courses before you decide if the program is for you.
Full Training – $1,495 (Join Now) – Get full access to all of the courses and training. The training can be completed on your own time and you have a full 12 months to receive your certification. When you purchase the full training you'll also get unlimited access to YogaDownload's full website which you can check out more in my personal YogaDownload review.
Take Your Practice Online
---
If you are considering becoming a yoga teacher then you probably already know how all of the positive affects that a regular yoga practice can have on your health. Whether you are wanting to become a teacher because of how yoga has helped you or you want to spread the message to as many people as you can, consistently practicing yoga is the best way to learn.
My personal journey with yoga started because I was tired of dealing with my chronic low back pain due to sciatica that slowly got worse over the course of 15 years. After regularly practicing yoga for over a year and a half the pain in my lower back is a fraction of what it used to be and I am in the best physical condition that I've been in my whole life.
No matter what you decide, sticking with your yoga practice is the best way to increase the quality of your life, and becoming a yoga teacher is a natural progression along the path of yoga. Click the image below to learn more about the YogaDownload online teacher training!

How can you take your yoga practice to the next level?
Stick With It!
-Nate