One of the first backbends that you will most likely encounter while practicing yoga for back pain relief is Sphinx Pose. Although backbends are usually not the first thing that you will practice if you have a back injury, they will be necessary as you advance in your yoga practice. If you want to learn more about the importance of using backbends in yoga for back pain relief, especially lower back pain relief, then check out my recent post.
What is Sphinx Pose?
---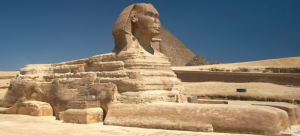 Sphinx Pose is one of the most basic backbends and is great for beginners and people with chronic back pain. Since you can modify this pose as much as you need, finding the right stretch for your body is easy to do. As you continue to practice yoga for back pain relief, overtime your body will begin to loosen up and you will be able to go further into the poses while feeling less and less pain.
How to Perform Sphinx Pose
1. Start lying on your stomach with your forehead facing the ground and your legs straight behind you. Bring your big toes to touch while rotating your heels away from your body towards the ground. This rotation will protect your back and pelvis by lengthening your lower back and sacrum.
2. Make sure your feet and legs are active throughout the pose by reaching your feet towards the back of the room. This will engage your legs and thighs, lifting your knees slightly off the ground. Be careful not to squeeze your glutes too hard, though, as it will cause your lower back muscles to also become active and not receive the full benefits of the pose.
3. Bring your elbows towards your shoulders while placing your forearms and palms on the floor parallel to your body. Supporting your weight with your forearms, slowly begin to lift your chest and head off of the floor, creating a slight bend in your back.

4. Keep your gaze looking forward and your toes reaching backward as you bring your awareness to your core muscles. In order to allow your lower back muscles to completely release in this pose, slightly add a little tension to your abs to support the lower back muscles and strengthen your upper back.
5. Hold your full extension of Sphinx Pose for 5-10 breaths and then gently return back to rest your chest and head on the floor. Repeat this pose as many times as you need to feel relief in your back.
Benefits of Sphinx Pose
Lengthens and stretches the spine
Strengthens the spinal muscles
Releases tension in the lower back muscles
Stretches chest, shoulders, and abs
Firms the glutes
Massages internal organs near the abs
Practicing Yoga for Back Pain Relief
---
As mentioned before, Sphinx Pose is a relatively basic yoga pose that incorporates a backbend and should only be practiced if your back is healthy enough for it. If you are recovering from an injury due to sudden pain in your back or any other debilitating condition then you may need to first start a more rehabilitative type of yoga like yoga therapy before you are healthy enough for Sphinx Pose.
The more days that you are able to stick with it and include poses like Sphinx Pose into your yoga routine the faster you are going to find relief from your back pain. Even if it doesn't seem like your back pain will ever get better – it will. You just have to consistently show up to your mat with the intention of getting rid of the pain for good and overtime your body will begin to heal.

What are you doing to help find relief from your back pain?
Stick With It!
-Nate