If you are just starting your yoga practice and are worried about not being able to perform even the most basic yoga poses, it might be beneficial for you to modify the postures until your body is stronger and more used to the positions you are putting it in. No one is an expert when they first start practicing and it takes most people months of practice before they are able to do basic yoga poses without modification. As long as you are moving into and feeling each pose, no matter how modified it is, overtime your muscles will begin to get stronger and loosen up which will allow you to start relieving your pain.
Modifying Basic Yoga Poses
---
The only way you are going to be able to heal your body from whatever it is that is causing you pain is to stick with a workout routine that works for you for the rest of your life. I have personally found that yoga is one of the most enjoyable experiences that I've ever encountered which allows me to consistently keep coming back to my mat day after day.
It doesn't matter how slow you go in the beginning, or how much you modify each pose or routine, it only matters that you stick with it overtime and the rest will work itself out.
Remembering the following modification techniques are available if you need them will allow you to master the basic yoga poses and start to heal your body with your practice.
1. Use Blocks And Straps
Many folding balance postures can be difficult if you are not flexible enough to support yourself on the ground or your core is not yet strong enough to support your weight. Placing a block underneath of you in postures like Bridge Pose or Half Moon can add extra support as well as allow you to open space in your body instead of falling forward or down. Using a strap when you are practicing binds is also going to give you more space to open your body up with.
2. Bend Your Knees
There are a lot of postures in yoga that are going to require you to stretch your hamstrings and lower back. If either of those areas are tight or cause you pain then it might be necessary for you to bend your knees when in poses like Downward Dog or any forward fold. Slightly bending your knees will allow you to ease your body into the pose and get a good stretch without straining your muscles.
3. Place Your Knees On The Ground
Placing a knee on the ground while in any type of lunge will allow you to get deeper in the pose instead of worrying about falling over or not being able to straighten your back leg. Lunging postures such as Crescent Pose are great for stretching your entire body so if you need to place a knee down in order to feel your full extension, then do it! Dropping a knee and allowing the rest of your body to stretch out is going to heal your body faster than trying to force yourself into a pose. Many lunging poses also have a twisting variation so use a block whenever you need.
4. Skip Chaturunga Dandasana And Upward Dog
One of the most basic yoga poses is Chatarunga Dandasana into Upward Dog which is lowering your body halfway down while in a plank position and then raising your chest and head up to the sky while straightening your arms. If you have a shoulder injury or low back pain then skipping this sequence entirely and moving from Plank into Downward Dog is always an option. If you still want to do a back bend then you can modify Upward Dog with Low Cobra which takes pressure off of your shoulders.
5. Rest In Child's Pose
I think Child's Pose is the most important modification that anyone can make in their practice. Yoga is called a practice because you are doing just that, practicing. Any time you feel like you are pushing yourself to hard or need a break, resting in Child's Pose until your catch your breath is a great way to recover. Once you are ready to continue then you can pick back up where you left off.
Slow Down Your Practice
---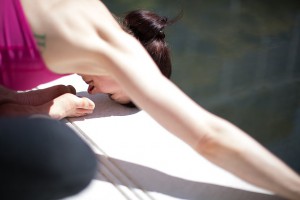 There are so many companies and products advertising fast results because we have become a society that moves faster than we are able to keep up with. Finding time to workout in the midst of everything else you have to do in your day can seem impossible but ignoring the pain and just hoping that it will go away will cause you more and more pain the older you get.
Reminding yourself that you are the only person in control of your health will not only push you to always come back to your mat but also let you take your practice at a pace that motivates you to stick with it. Modifying your practice to what suits you best will give you the strength and confidence you need in order work out the aches and pains that have built up in your body.
Committing yourself to a regular yoga practice is the best way to train your body and start getting rid of the pain. Even if you only practice a few times a week, each time you practice will add up to something great.
As you advance in your practice it might be necessary to hold or go deeper into a pose when your body is begging you to come out of it in order to get stronger but if you are just starting out then take it easy. Your body isn't going to magically be free from the pain after one or two sessions. Yoga is a lifelong commitment to your body and your health so check your ego at the door and just let yourself feel whatever your body wants to feel, no more, no less.

What is a modification technique that works for you in your workouts?
Stick With It!
-Nate