It might seem obvious that practicing backbends in yoga would help relieve back pain but unfortunately are commonly avoided due to the challenges they can present. If you are practicing yoga for lower back pain relief then your lower back muscles have most likely weakened from inactivity and are allowing stress on your lower lumbar vertebrae. Including backbends in your yoga practice will begin to loosen up your lower back muscles and allow for greater mobility in your spine while strengthening and working out the kinks in the joints of your lower back.
Why Practice Backbends In Yoga?
---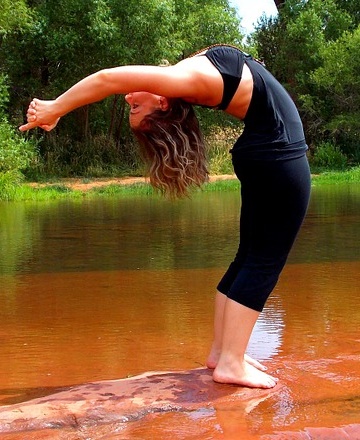 Since most jobs today require us to sit at a desk or hunched over a computer, backbends help restore the spine to its natural flexibility by opening up the chest and bending the spine forwards and backwards. This movement will help restore the lumbar vertebrae to its natural position and start to heal the connective tissue within the joints of the lower back, reliving chronic pains from conditions like sciatica.
Whether you are advanced or a beginner it is important that everything that you are doing when practicing backbends in yoga is done slowly and with intention so you avoid injuring yourself. It is especially important if you are a beginner to start small and not try to jump into more advanced backbends right away. The muscles in your lower back need to become stronger and more flexible in order to be able to support your body weight as your further your practice and are able to move into more advanced postures.
Build Strength Overtime
The more you practice a high-intensity yoga routine like vinyasa yoga the deeper you will find yourself being able to go into your backbends and the stronger your spinal muscles will become. Not only is your back going to feel great after stretching out from being hunched over all the time, the increased flexibility in your lower back and hips will help relieve tension that can cause chronic pain in your lower lumbar vertebrae.
Not until I regularly started practicing hot yoga was I able to fully understand the benefits of including backbends in my practice. The added heat of a hot yoga classroom seems to really allow my body to loosen up and feel the full effects that a backbend like Wheel Pose can have on my lower back. As my lower back muscles begin to get stronger the more I practice I can actually feel my lower back muscles getting stronger and can see the results in being able to do postures that I've never been able to do before.
Benefits of Backbends In Yoga for Lower Back Pain Relief
---
Although you might first add a few backbends into your practice to help relieve lower back pain, the benefits of backbends go further than just building a stronger and more flexible lower back. Since you can't do a backbend without also having to open up your chest and shoulders, backbends also help to relieve tension in your neck and shoulders which is where many people carry a lot of stress. Opening up your chest helps relieve stress caused from tension in your neck and shoulders and loosens the muscles down your spine to your lower back.
When performed on their own, backbends such as Cat-Cow Pose can provide immediate relief from lower back pain and start to strengthen weakened joints and muscles in your lower back. As you get stronger and are able to include backbends into your regular practice, the more you are able to stretch your spine and lumbar vertebrae out the more relief you are going to start to feel in your lower back.
Take It Slow At First
When you first start practicing backbends you might only be able to lean back a tiny bit until you feel pain in your lower back. If you are practicing yoga for lower back pain relief regularly then you will start to see and feel changes in your body overtime. As you twist and stretch yourself into postures that you never thought would be possible you'll be able to go deeper and deeper into your backbends.
Healing your lower back pain is possible with yoga and backbends are an essential part to making it happen. As long as you are willing to stick with it it doesn't matter how slow you have to go in the beginning. It's a matter of consistently showing up to your mat, day after day, that will ultimately help you get the relief that you need.

Do you use backbends to help counteract the effects of sitting at a computer all day?
Stick With It!
-Nate