For the past few months I have taken my yoga practice to the next level by joining a CorePower Yoga studio. After only a short time I am seeing how CorePower Yoga is transforming the bodies and minds of the people who have started to practice this new form of yoga. Whether you are brand new to yoga or a seasoned veteran, CorePower Yoga has something for everyone.
Giving A New Name To Hot Yoga
---
When I first moved to the city that I currently live in it was difficult for me to find a yoga studio that really offered a high-intensity workout that I was used to. I went to various different studios looking for somewhere that was going to be able to help me take my yoga practice to the next level but came up short.
After a few months of practicing at home, a brand new CorePower Yoga studio opened up in my city. I was already familiar with CorePower Yoga and was excited to give it a try. If you are not familiar with what CorePower Yoga is, it is a series of workouts offered at any CorePower Yoga studio across the country.
As much as I love the classes at CorePower Yoga that you'll see below, the thing that made me keep coming back was the modern design of the studio and the locker-rooms. I had never been to a yoga studio that had such nice facilities before and it made it that much easier to keep coming back.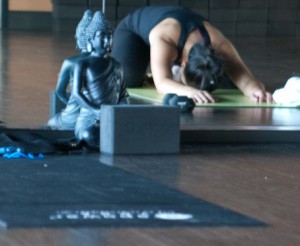 What You Can Expect At The Studio
CorePower Yoga offers four different classes: C1, C2, Hot Power Fusion, and Yoga Sculpt. The C1 class, or the beginner's class, is the only class that is not a heated class, meaning the other three types are heated hot yoga classes.
At first I was hesitant about joining a studio that offers mainly hot yoga classes because I already sweat a ton in non-heated classes and I really didn't see the benefit adding more heat to the mix. What I realized after my first few classes was that my body was getting looser than ever before and I was able to go deeper into poses that had previously caused me problems.
Practicing in a heated room, while dramatically increasing the amount of sweat pouring off of my body, also allowed my muscles to really warm up and provide me the space that I needed in my body to get into these deep poses. Being able to feel parts of my body that I never knew even existed has really propelled my practice forward while providing the intense physical therapy that my chronic low back pain needs to continue healing.
A Look At The Classes
Everyone is at different points in their yoga practice which is why CorePower Yoga, just like every other yoga, encourages you to go at your own pace. The C1 class is great for beginners because you practice the same sequence of movements every class. However, if you are advanced and would like to go further, you are always welcome to take your practice as far as your body needs to go that day.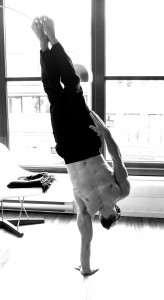 I enjoy going to the C1 classes because it allows me to stop worrying about what movement is coming next and really get into the flow of the class but if you're looking for a little more of a challenge and still want to practice a power vinyasa yoga class, the C2 class takes all of the movements that you learn in the C1 class and adds another level of difficulty to them.
C2 classes are what I consider the high-intensity, cardio workouts that incorporate all of the advanced yoga postures that you will find in most types of yoga. I've found that the C2 class is very similar to DDP Yoga but has more of a traditional yoga feel.
The Hot Power Fusion class is very similar to a Bikram Yoga class where there are a lot of standing balance postures mixed in with traditional vinyasa poses. I find this class the most challenging because even though you aren't moving very much, the intensity of the balance poses added to the heat of the room causes your heart rate to skyrocket, burning calories like crazy.
After a couple months of really getting into the first three classes I decided I would give Yoga Sculpt a try. This class is a weighted class that doesn't resemble yoga much at all.  There are some yoga postures used in the class but it is mainly a workout that is going to help you tone your body and help build the strength that is needed for more advanced yoga poses.
How CorePower Yoga Helps The Body And Mind
---
As much as I didn't enjoy leaving each yoga class looking like I had just been punched in the face and thrown in a pool, what I started to realize was how good I started to feel afterwards (once I showered and ate some food). It wasn't obvious at first but I eventually started to find that after sweating out and replacing huge amounts of water from my body three or four times a week, I was constantly detoxing my body, flushing out any toxins that might have been there.
Also, I have seen a drastic increase in my strength, flexibility, and mental concentration, all of which I attribute to practicing in a hot yoga class. Being able to  keep your breath under control while under intense strain and profusely sweating helps the body relax and the mind to focus. If you are able to embrace the fact that you are going to sweat and really give in to the practice, you will gain all of the benefits that hot yoga has to offer.
As I'm laying on my mat at the end of a class I almost feel euphoric. My brain is tingling and if I run my hands through my hair my entire head feels like it has goosebumps. My mind feels connected to the rest of my body more than ever before and the feeling continues into my everyday life after I leave the studio.
I'm not sure what exactly is going on in my body when I'm at a CorePower Yoga class but I know that what ever it is, it is making me feel better than ever before. Sweating out the bad in your life and bringing in the good is possible and it's happening in CorePower Yoga classes all around the country.

What in your life could use a little detoxing?
Stick With It!
-Nate