One of the most common postures that you will see when using yoga for back pain relief is Child's Pose due to the versatility that it offers. Child's Pose relieves tension in your back and hips while increasing flexibility and circulation to the muscles and joints in your low back. When taken to the full expression of the posture, Child's Pose can produce immediate back pain relief.
What Is Child's Pose?
---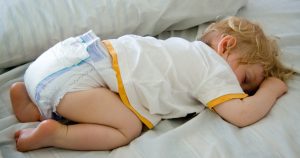 Child's Pose is often used as a resting pose in many vinyasa yoga classes for when the intensity of the practice gets a little too much and you need to rest for a few seconds to catch your breath. However, when used on its own, Child's Pose can produce many therapeutic benefits for people who have pain in the facet joints of the spine. As your spine lengthens, the joints that help your spine bend and twist open up space between the vertebrae which helps repair the bad cartilage that causes your vertebrae to grind together instead of smoothly moving against each other.
How To Perform Child's Pose
1. Starting on your hands and knees in a table-top position, begin to widen your knees away from your body while bringing our feet and toes to touch. Your knees can be however wide is comfortable for you to move into the position without pain.
2. Slowly begin to move your buttocks towards your heels while dropping your forehead to the ground.
3. If you have shoulder issues you can bring your arms to rest alongside your legs on the ground. Otherwise, keep your hands firmly planted on the ground in front of you. Your hands and arms can be in any position that you feel comfortable with straight or bent elbows and your spine should be straight.

4. If you feel an adequate stretch in your back and hips then hold this position for 5-10 deep breaths.
5. To get a deeper stretch in your lower back and hips and really lengthen the spaces between your vertebrae, spread your knees a little bit further apart and lengthen your tailbone down towards the ground as far as possible.
6. Straighten your arms out in front of you about hips width apart and push your palms into the ground. Stretch your hands as far forward as possible while lengthening your tailbone to the ground.
7. Continue to take a few slow breaths while you move your body into your furthest point and then release back to table-top position.
Benefits of Child's Pose
Stretches your hips and legs
Releases tension in your back and neck
Calms the mind
Relieves stress
Improves circulation
Child's Pose And Yoga For Back Pain Relief
---
Child's Pose is going to become one of your favorite and most effective yoga poses for low back pain relief. I use Child's Pose everyday while stretching my lower back and receive instant relief from the tension in my lower back from chronic pain stemming from sciatica.
Although yoga is an amazing tool that can be used for back pain relief, the only way that you are going to find long-term relief from the pain is to find a workout that you can consistently stick with for the rest of your life. Daily stretching is going to help give you short-term relief from the pain but in order to get in deep and heal the root cause of your pain you are going to have to work hard.
If your pain is as bad as mine was when I started practicing yoga then the only thing stopping you from finding relief from the pain is yourself. Dedicating yourself to a yoga routine is going to start healing your body from the inside and give you the confidence and mental preparedness to stick with it for the rest of your life.

How could Child's Pose help you in your day?
Stick With It!
-Nate