Over 3 million new cases of low back pain are reported each year caused mainly from the increasing amount of people that work sitting at a desk for the majority of their day. The way the spine is compressed while in a sitting position is very unnatural for the body and can lead to minor to extreme pain if left alone for too long. Give these simple yoga exercises for lower back pain relief at work a try a few times throughout your day and you'll not only feel instant relief in your lower back, but also more energized to take on the rest of your day.
Lower Back Pain in the Modern World
---
Modern technology has just about made any manual labor that our grandparents might have had to do a their jobs when they were young completely obsolete. A lot of people can work their entire day and only have to move a few fingers to click a computer mouse. Although standing for long periods of time can also lead to low back pain due to fatigue in the lower back muscles, sitting increases pressure on the spine 40% more than standing.
It is important that you stand up and stretch your muscles a few times each day in order to get lower back pain relief while at work. Even if you are an otherwise active person, sitting for 8 or 9 hours wreaks havoc on your joints and muscles and must be kept active in order to prevent sudden pain in your lower back.
Exercises for Lower Back Pain Relief at Work
---
Below are 3 simple yoga exercises you can do at work that will give your day, and your lower back, the relief it might need. While moving through each stretch either close your eyes or keep a light gaze and focus on breathing one breath with each move that you make. You can do each of these exercises while sitting, but try standing for the best overall relief for your lower back pain.
1. Side Stretch
Either standing or sitting, lift your arms over your heard while keeping your back straight and your gaze looking forward. Grab your left wrist with your right hand and slowly bend to the right while gently pulling your left arm. Release to center, switch the grip on your hands, and bend to the left. Go back and forth however many times feels good for your body.
Benefits:
Lengthens vertebrae in the spine
Helps with spinal alignment
Opens space between lower lumbar vertebrae
Stretches spinal, torso, and rip cage muscles
2. Backbend with Interlaced Fingers
Either standing or sitting, interlace your fingers behind your back while straightening your arms and your fists towards the ground. Keeping your chest open and your shoulders moving towards each other on your upper back, gently begin to bend slightly backwards while making sure your neck is straight. Once you feel a good stretch, straighten your back and release your hands to the front of your body.
Benefits:
Stretches the chest, neck, and shoulder muscles
Backbends help with spinal flexibility
Opens up space between the muscles in the rib cage and torso
Releases tension in the lower back muscles
3. Forward Fold
Either standing or sitting, slightly bend your knees and fold forward with your hands to the ground. If you are sitting, lean your chest towards your thighs and try to grab hold of your feet. If you can grab your feet, gently pull with your biceps to help your chest get even closer to your thighs. If you are standing, keep a slight bend in your knees and gentry sway side to side, maybe grabbing your opposite elbows with opposite hands. Hold for a few breaths and then release to standing or sitting.
Benefits:
Increases circulation and blood flow to your lower back and organs
Stretches the hamstrings and lower back
Lengthens the lower lumbar vertebrae
Relieves stress and reduces anxiety
Practice Simple Yoga Exercises for Lower Back Health
---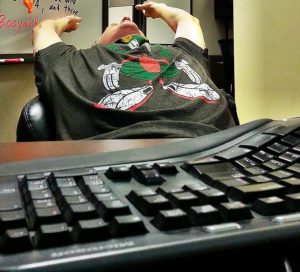 With the way the working world is headed it doesn't look good for the health of people, especially lower back health, that have to sit down in order to do the work of the future. If your job requires you to sit down for most of the day then it is your responsibility to take care of your body so it can function properly and avoid long-term issues.
I battled chronic low back pain for 15 years and sat at a desk for the better part of 10 years and developed extreme chronic back pain due to things like sciatica. Only yoga has been able to give me actual relief from my low back pain, and after almost a year and a half of practicing I am virtually pain free.
Although taking small steps and stretching throughout your day is going to help your body to combat the 8 hours of inactivity that it is faced with most days, committing to a regular yoga practice is the fastest way that you can find long-term relief from your low back pain.

How do you help relieve low back pain while at work?
Stick With It!
-Nate