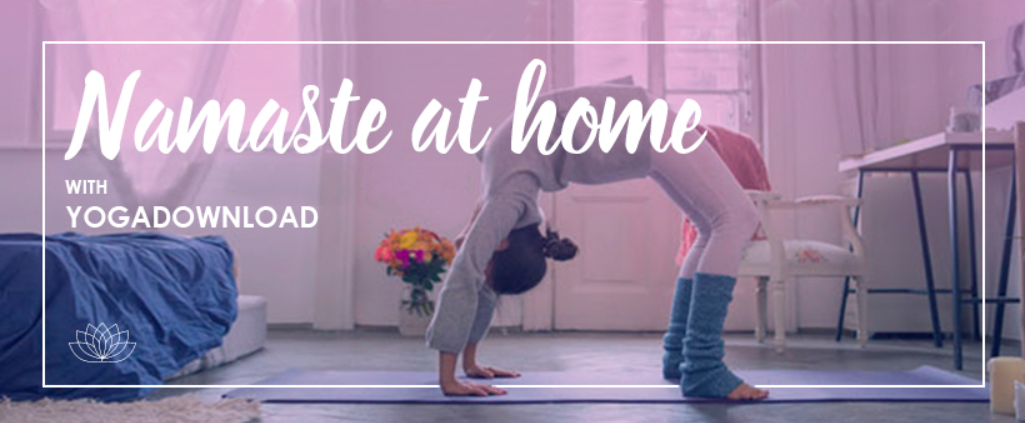 When your lower back muscles are inactive for long periods of time they can become weak and prone to injury. If you regularly practice yoga to strengthen lower back muscles you will help your body heal any chronic pain you might have in your lower back as well as prevent further injury or pain in the future. Keep reading for my favorite yoga poses for lower back strength that have helped me personally find relief from chronic low back pain while strengthening my lower back muscles.
How Does Yoga Strengthen Lower Back Muscles?
---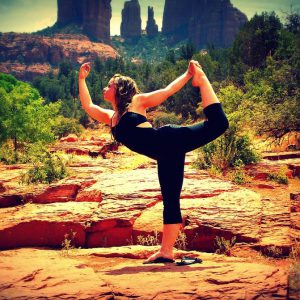 Before you should even start trying to strengthen your lower back muscles you will want to first work on improving your overall flexibility, especially in your hamstrings, hips, and glutes. If you are suffering from a chronic low back condition like sciatica then trying to strengthen your lower back muscles by doing a lot of low back exercises without first loosening up your tight muscles can cause even more damage to your lower back.
Through your yoga practice you will be improving both your strength and flexibility as well as receiving  all of the other health benefits that come with a regular yoga practice. Most importantly you will be strengthening your core muscles which include all of the muscles around the mid-section of your body, especially your lower back and abs, which are directly responsible for supporting your low back.
Because yoga encourages you to go at your own pace, no matter what everyone else in the room might look like, you build muscle strength at the pace your body needs to be able to heal at the same time it is getting stronger. While you are moving through a yoga routine your muscles are getting loose at the same time you are building strength which might limit how deep you are able to go into a pose if you are a beginner.
This wall, or edge, that you hit is a good thing! It shows exactly how much work needs to be done in your yoga practice and, overtime, you will be able to go further and further past your edge. The more you are able to push past your edge during your practice you are building strength in your lower back muscles, increasing your overall flexibility, and improving your balance all while healing your lower back pain.
My Favorite Yoga Poses for Lower Back Strength
---
Since I started practicing yoga with severe chronic low back pain, I was extremely focused on what I needed to do in order to relieve the pain as fast as possible. The following yoga poses have not only helped strengthen my lower back muscles but have also increased the mobility of my entire lower back and spine allowing me to find immediate and lasting relief from my low back pain.
1. Chair Pose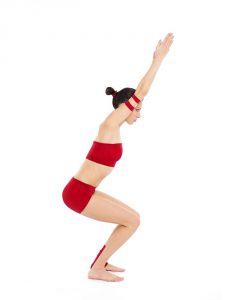 When you first start practicing yoga and attempt Chair Pose you might find that it is one of the most difficult poses to do. Chair Pose builds strength in your entire back as well as your legs, glutes and shoulders which can make holding this pose for longer than a few seconds extremely difficult at first. The longer you are able to hold the posture while maintaining proper alignment in your body the stronger your muscles are becoming.
Relief tip: While in Chair Pose make sure your feet, legs, and knees are together with your arms lifting straight past your ears while shifting your gaze forward. Keep your back straight as you lower your glutes back and towards the ground . If you look down at your feet your knees should not be over your toes.
2. Boat Pose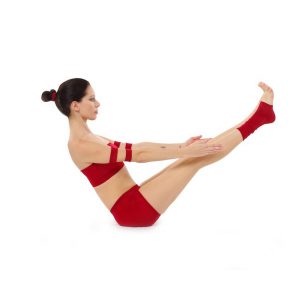 There are a few different variations that you can do in order to modify Boat Pose, such as keeping your legs bent or your toes on the ground, but no matter which variation you choose you are guaranteed to feel this pose in your core. As your core and lower back muscles get stronger you will be able to use Boat Pose to build support in your lower back and spine.
Relief tip: While in Boat Pose lift your chest up to the sky and flex your lower abs up and in. Focusing on your lower abs in this pose will help build strength around your entire lower back and core.
3. Bridge Pose
A bit more advanced pose for those who are either just starting out or have weak or injured lower back muscles is Bridge Pose but will really help build strength in your lower back and core. Once again there are different variations that you can take this pose in so always be sure to go at your own pace and modify whenever needed.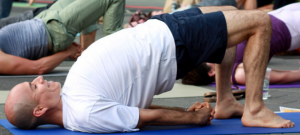 Relief tip: While in Bridge Pose rest your head on the ground while lifting your chin up to the sky. Your knees should be at a 90 degree angle with your feet pressing the floor away in order to lift up through your lower back and core. If you are able to interlace your hands and arms underneath your back and press through your shoulders it will allow your lower back to lift higher and build strength in your low back muscles.
4. Bird-Dog Pose
One of the most rehabilitative poses that you can do while strengthening your lower back muscles is Bird-Dog Pose. This pose lengthens the space between your vertebrae while building strength in your core, especially when combined with ab crunches. To add an ab crunch to this pose, bring your opposite elbow to opposite knee at the center of your body and then extend back out.
Relief tip: While in the full expression of the pose make sure that you can form a straight line from your fingertips down through your body into your leg and out the back of your foot. Your heel should be pushing against an invisible wall behind you while reaching your fingertips out in front of you.
5. Half-Locust Pose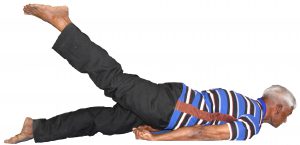 By including Half-Locust Pose into your routine you can isolate your lower back muscles and concentrate on maintaining proper form to get the most out of the pose. If you currently have low back pain then it is important to take this pose as slow as you need while you get to your edge. Each time you are able to lift your leg higher and hold the pose longer you are gaining strength in your lower back muscles.
Relief tip: Support your lower back by placing your hands face down underneath your pelvis and bring your pinkie fingers together. Keep your arms and legs in a straight line with your feet touching as you slowly raise one leg at a time.
6. Bow Pose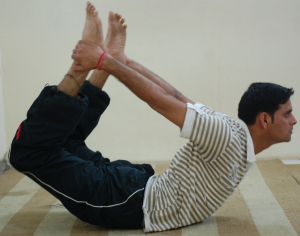 Another more advanced pose and should only be attempted if your back is feeling loose is Bow Pose. This pose allows your spine to bend backwards which gives more mobility to your lower back and core muscles. While in the full expression on Bow Pose you might be able to rock back and forth while on the soft part of your stomach.
Relief tip: Grab your feet from the outside and while pointing all 5 fingers in the same direction on top of your foot. Keep your knees bent and together and your arms straight as you lift your legs up. Think about lifting your shins up an invisible wall behind you while lifting your chest to the sky.
Build Strength and Find Relief with Yoga
---
When you first start practicing yoga and incorporating the poses listed above into your routine you will notice your lower back getting stronger and looser each time you show up to your mat. Only practicing a couple of times a month, or less, isn't going to be enough to strengthen your lower back muscles enough to heal your low back pain.
By starting a regular practice you will be building strength and releasing tension after every workout. When you combine 2 or 3 workouts a week together after a year of practice you will have done some serious rehab for your lower back all while getting in the best shape of your life both physically and mentally.
It is possible to build strength in your lower back muscles with yoga and is the fastest way I've found to heal chronic low back pain along the way. It starts with the decision to make a change in your body and then sticking with it, no matter how hard it might be.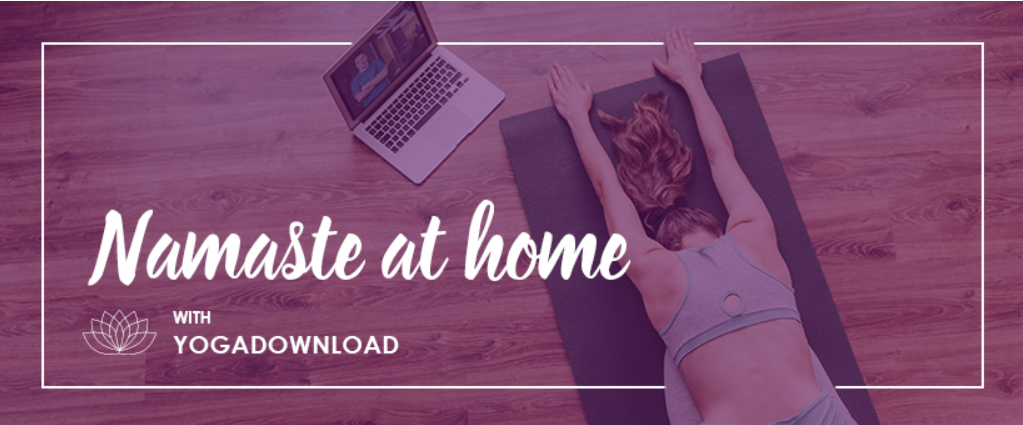 What's your favorite yoga pose for building strength in your lower back muscles?
Stick With It!